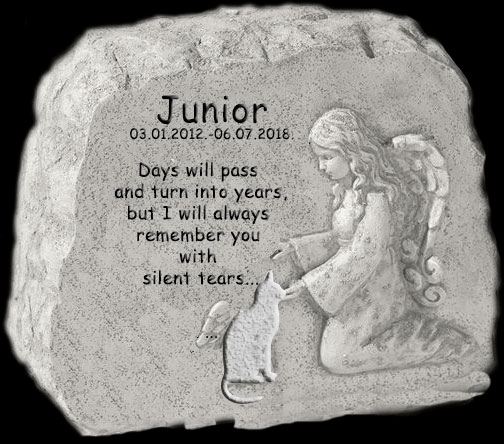 Goodbye our love
:'(
:'(
:'( <3 <3 <3

It is so hard to write this post.. you were so young.. only 6.5 years until your first and last breath in our hands..
6.5 years so full of life and love ..
You life was a miracle for us ...when you was born as only baby in litter we were know that you will stay with us forever... you was so speceal <3
from 1st moment you was so spoiled , so stuborn baby , so darling at the same time ...had amazing relationship with Lucija and with your Bastet ...
I miss looking how you take care about her, how you licking her head ... I miss your gentle voice everywhere around me ...
In spring 2017. Junior had injury , he was almost paralised and after lot examination we find way to help him ... he had a big spinal surgery , and after few weeks he was again on legs , and few months latter he could walk without our help . Our happines was endless ... and then ... when we was so happy , so optimistic ... shock ... his one eye change shape suddenly ... again examination ... this time we had diagnose in 2 days .... tumor on adenohipophisis.
last 3,5 months our Babi fight bravely.. 15 treatment of chemotherapy, all our love, all our hopes and wishes wasn't enough...

My dear Junior (Bebi), you may have lost your battle with cancer, but you are still my hero
<3
<3
<3

You have special place in our hearts , and there you will live forever