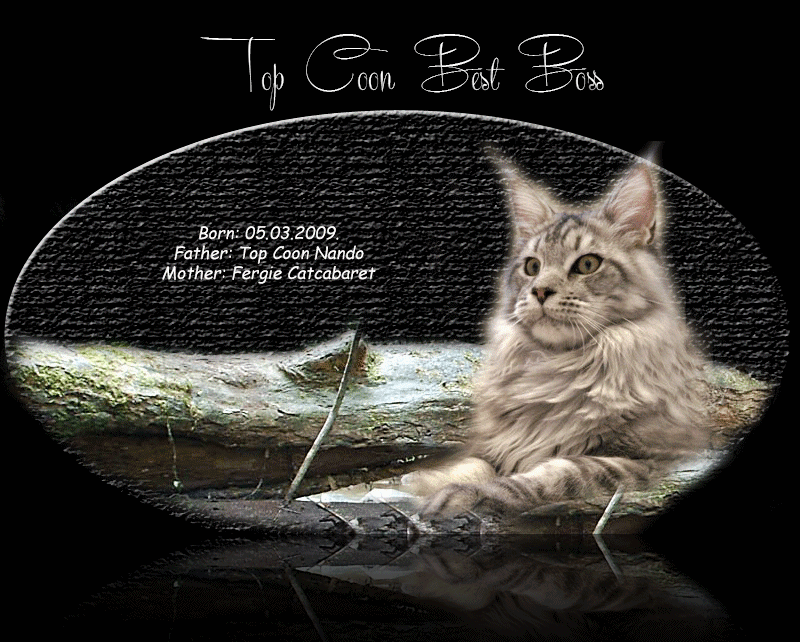 GOODBYE MY LOVE ... MY BOSS

.... Tears, sadness and pain ....
You were a special .... you knew it all your life ...
You're fascinated me from moment of our first meet ...
I will never forget that moment ... you're out of the transporter and walked to me , directly into my life and heart ... confidently, happily, without fear .... head held high, proud, beautiful. .. you stole my heart at first sight .... your eyes told me, "I'm home"
From that moment until the moment when you fell asleep in my arms we spent wonderful moments ...
Happy and difficult moments filled with true love, laughter and kisses ...OMG, many , many kisses …
My love ... I never, never forget the kisses that you are happily gave to us ... always ... as long as we wanted ....oh , a million kisses I've got on one day ....
I will miss your kisses ... your talking ... your awakening in the night to let you go under the blanket ... you will miss us in the kitchen … You're a chef, stubbornly waiting for the moment when we will turn back to you, so you had a chance to steal a piece of food … You will miss us on the window when we are come back to home .... I will miss your loudly nagging if not open water at the tap … Wherever I look back, on whatever I think ... reminds me of you ... I already miss you …. Your darling eyes , your head , your paw ….
I miss your mischief that you are doing every day … we allow you all ... because we knew that your life is mirical and every new day with you is gift for us …
With big fear we was know that day when all will be over can come very fast … when was come this time , we was hoping … we was waiting … maybe too long , but our dear love … you know that we was waiting only one kiss …. The since that you will come back …
Forgive us, our love, if we wait too long … I hope that we was let you go on the time that you don't fell pain …. I hope that last that you was feel is our love for you ….
Go now , runs freely ...without pain, needles, syringes, infusion , drugs …
Go our love until we met again , you know that we'll always carry you in our hearts …
For many years, we know that your life will end prematurely … for all this year you was our brave fighter ... hero ... our miracle ... our all ...our big love …. And always you will be
When entered the puberty, Boss has developed a serious type autoimmune disease, and last 14 months he was living with chronic kidnay failure ... The first fight for the his life was when he was younger than a year ... the year that followed, were filled with good and bad days ...
He started his journey fighting for the every day life ...
On this journey he was not alone ... we were not alone ...
Our family, our friends, our cat family , our vet team .... many, many dear people was with us all this time ...
I need all of you to say thank you for being here with us in good and in hard days …being our support... I have to thank all of you for your confort …
Big thanks to the whole team of Vet Point .... dr.Žarko, dr.Ivana, dr.Slavica, dr.Maja, dr.Ladislav … all Vet Point staff in all this years …. Without any of you , Our Boško would not had a chance…
Big thank you dear Beata Kalicka for thih incredible treasure what you was give to me … I will be grateful to you all my life
Dear friends … Be kind to your animals, love them, help them ... do not leave them when a problem occurs ... fight for them ... an animal that has a problem can be happy, if you help them, they can long and quality live, can make a lot of boundless love and kisses ....
6 FIFe SHOWS ;
6 x Excellent 1 , 6 x CAC , 1 x CACIB
1 x Nominated for BEST IN SHOW
3 x BEST IN VARAITY

IC Top Coon Nando , n 22
Love Hulen's Heeman , n 09 22
GIC Love Hulen's Scoop , n 22
Love Hulen's Hurricane Mitch , d 22
Love Hulen's True Love in the X-file , n 22
Love Hulen's Indiana , n 03 22
Koontucky Indan Wolf of Lovehulens , n 09 22
Love Hulen's Show Dream , n 22
N Mountain Lynx' Dolly Dimple , n 09 22
GIC FIN Chamberlain Rain Maker , n 09 22
GIC St. Johns Genesis , n 22
EC Capecoon Sweet Melissa , n 09 22
Monitou's Exquisite , a
Ch Hulelyckans Dunderklumpen , n 22
Ch Overlord Pomerance , n 22
Fergie Cat Cabaret PL , fs 22
IC ZZ Top of Gentle Lions CZ , ns 22
GIC Langstteich's Ca'Power Pepper , d 09 22
Ch Langstteich's Calvin , n 09 22
Capecoon Perdita , f 22
Isabel of Gentle Lions CZ , ns 22
IC D'Artagnan the Magic one (SDRV) , ns 09 23
Hester v. Weidebusch , ns 22
IC Maxi Alwaro PL , f 22
EC DK Sebasco's Daker Davito, WW , d 22
EC Guldfakse's Chif Two Moons, DM,WW, d 23
DK Mountaineer's Kitti Caballe , f 22
IC Squabby's Calamity Jane , f 23
GIC Squabby's Ashley Taddy , d 23
IC Squabby's Arkansas Sissy , f 09 22